Here is another printable for all you patriotic Canadians, or those of you that love Canada, in honour of the 144 years to be celebrated next friday, July 1st.
I also wanted to include the video of the Canadian crooner, singing "The Maple Leaf Forever" with pictures from the 2010 Vancouver Olympics Closing Ceremony and the song can be found on the soundtrack to the 2010 Vancouver Winter Olympic Games, "Sounds of Vancouver 2010: Closing Ceremony Commemorative Album", it is track #10 (bet you didn't know that each Olympics had their own soundtrack). "The Maple Leaf Forever is a song written by Alexander Muir, shortly after Confederation in 1867. The song is an unofficial anthem to Canada.
I have a really cool thing to show you in a day or two so come back.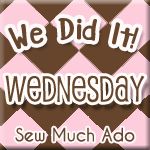 House of Hepworths Hook Up Thursdays