Well, Princess decided she wanted to be a chef today now that she s back to normal and I asked her what kind of food she wanted to prepare and she told me pasta so I thought, why not linguine??!!!
So here is how I made her felt linguine
Felt Linguine in the strainer (courtesy of IKEA)
Material:
Cream coloured felt -9X12(from Michael's)
Scissors/ rotary cutter
Cutting mat (if using the rotary cutter)
I used scissors (quicker for me)
1. Fold the felt in half (9X12), short sides meeting
4. Unfold the pieces and let you child serve up some play pasta to their toys.
I hope you enjoyed my tutorial!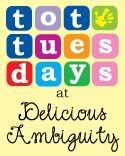 SYTYC Linky Party#4