This week was Princess' first real week of homeschool preschool...We started the week with the Letter "Bb" so that she would know what letter her name started with. I read on some blog, and I don't remember which one that it was best to start with letters that had a familiarity to them.
Monday
- Well we started with "Bb" mats tracing with waxy strings (Benderoos), I liked the Wikki Stix but found Benderoos way cheaper and then I found
Quirky Momma
(teaches you how to make your own version), and number "1". We also watched a youtube video that showed the Alphabet phonetically song. It was a hit with Cheeky Monkey as he danced around the room. Our homeschool classroom has taken over the kitchen table...the Princess keeps telling me that "it ain't a school house its my house" (she isn't really understanding the concept of homeschool yet). So to her statement my response was that we can make any room into a school, and she just said "oh, okay Mommy." We then talked about how to make a "Bb". I then had made grids with one column filled with letter, mixed up (4-5 per grid) and the other column was empty squares for Princess to match with her magnet letters. She did very well and completed the lesson. I plan to use this Mystery Box Alphabet Match idea eventually that I found on
Home Grown Hearts
(scroll down on the page to find it). It will challenge her ability to learn her ABCs. Then she did some colouring on her colouring pages, Toy Story 3 related. Cheeky Monkey also got to
colour
eat too....a blue coloured pencil (geared for 1+) called the
Prang Bebe
...he really didn't like the taste afterwards...good thing they are non-toxic (I await for the end result).
Tuesday
- I introduced Princess to the School Board...we talked about the days of the week, the date, the month, the season, we sang the Nursery Rhyme of the Week (Baa, Baa, Black Sheep--- I found these large Nursery Rhyme Card Set at Winners last year). Then Princess did some dancing to the Beatles to waste some energy. In the afternoon, we " baked" chocolate cupcakes...when we shopping on Sunday we picked up the Doctor Oetker Shaker Cupcakes and Princess loved making them because she got to do the shaking and then the eating.
Wednesday
- we did the 'My Address and Phone Number' aspect of the boards after we went through the calendar, weather and then I took out the flyers and Princess made a 'Bb' collage of all things starting with 'B' (she was really proud of it and loved showing it to Daddy). I then gave her some prewriting sheets (horizontal and vertical lines). I then got out a sorting lesson of pompoms, Princess loved this so much she didn't want to put it away.
Thursday- I put together a puppet set for the Nursery Rhyme of the Week, Baa Baa Black Sheep. I got my Cricut Expression out and the Create-A-Critter cartridge...and away it went. Here are the finger puppets we created:
Didn't it turn out quite cute!
Then we did some review of Address & Phone Number, We also picked up a Early Learning Packet with 3 different flashcard puzzles, opposites, ABCs & 123s at Costco, so Princess did the Opposites puzzles. Then we did some Letter recognition with the ABC bingo game and Prewriting worksheets, letter Bb.
Friday
- We review the Nursery Rhyme, Phone Number & Address, then Princess did some prewriting worksheets, Letter Bb, and then Sorting of Butterfly and Caterpillar that I got off several different blogs,
Confessions of A Homeschooler
(Letter Bb component of Letter of the Week); and
1+1+1=1 blog
, (Size sequencing of The Very hungry Caterpillar Tot pack). Thank you ladies for the hard work you did to make some of our lives as moms and homeschoolers a little easier.
Bonus to add in to our one goody bag that arrived Friday from using our Pampers Gift to Grow Rewards was out TAG Junior...so off we went to add in some books from the local Toy store...they are on sale this week. I am looking forward to using it as a tool for learning.
Thanks for reading and following my adventure. I will be trying to add in Cheeky Monkey to some of our activities, Baa Baa Black Sheep was a hit for him we had to do it over and over and over, he giggled every time. Please if any one can add in any advice on where to go with a 16 month old, I would love the input.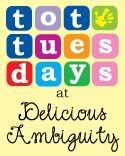 Hope you all have a great weekend!!!
Ciao,