This is a great giveaway coming to you from
Crimson Clover
is a Etsy shop, with beautiful creations by the ever so talented Tia. She is a SAHM of 5. Her exquisite eye for detail and the classics just leave you dreaming and making up wish lists for you hubby or family members. Tia has graciously offer a wonderful jewelry piece for my readers.
Here is a little tidbit of what Tia and Crimson Clover are all about...
Her inspiration...
Like most artists, my inspiration is found everywhere and in my everyday life. I get a lot of inspiration from the fashion industry, nature, my kids, and other amazing artists.
Craftiness came from....
Flip Flop Charms
My mom is a very creative woman and I have been making jewelry with my her since I was 5 years old, so I guess you could say that is really where I got my start. She was in the antique business so I grew up with a strong appreciation of things from the past. She also taught me the art of collecting. I loved how vintage items could somehow tell us a story. That is why I love to incorporate as much vintage as possible in my designs but give them a hip and modern twist. But the start of
Crimson Clover
came when my son, Bryson was diagnosed with Juvenile Diabetes 3 1/2 years ago, it was devastating and life altering. I started making all kinds of jewelry as a hobby because I needed that creative outlet in my life to get my mind off of all we go through in dealing with Juvenile Diabetes and mourning the loss of the child he once was before this awful disease. It was fun and I felt alive again. People started buying things off of my neck so I opened up an Etsy shop. We then moved to Chicago and I was approached by a marketing representive and the business has just taken off.
Tees with proceeds going to JDRF

And now I am able to use the business as a means to bring awareness to Juvenile Diabetes and dontate a big portion of proceeds to the JDRF in my sons name. - Tia (Crimson Clover)
Enjoyment in job arises from...
First and foremost, the one thing that I love about this job is that I am able to do it at home with my kids. They have such an amazing impact on my designs and I love to see their little creative light bulbs go off. The other thing that I really love is making my customers happy. I very rarely even wear jewelry but it is so nice to see so many people wear my pieces and tell me that when they wear my stuff, it just makes them happy. That's what it's all about!
Shop fave...
Leather Cuff with soldered
Swarovski initial charm
My favorite thing in my shop changes all the time but for the most part, it would be the Swarovski crystal initial charms. I don't wear a lot of jewelry but I love love love bling! I think these are the perfect juxtapositon of simple elegance. They look great with a pair of jeans and a t-shirt or a dressier outfit.
Secret passion outside of being a mom and shop owner...
This is probably the most difficult question to answer because when you have 5 kids, that pretty much consumes every aspect of your life and there isn't much time for anything else because when I'm not working, my life revolves around my kids. But I can tell you what I enjoy doing on the very rare free time that I get. I love love love to shop! I also love to decorate my home, work out (when I have time), and do pretty much anything crafty. I have a little craft group of friends and we have so much fun having our craft nights!
Etsy shops that catch your eye...
Yes, there are too many to name but here are just a few of my favorites. All of these lovely and talented women have become such dear friends to me.

glamarella
carikraft
scrappyjessi
bethingels1
rockstocknbarrel
funkyshique
sassrocket



Describe your shop in 3 words...

Ok, 3 words...Faith, Family, Honesty...Touches of these words are in everything I do with Crimson Clover...
Tia of
Crimson Clover
has graciously offered a Good Day/ Bad Day Pendant
to my winner.
So here's all the details on how you can win...
**Leave a separate comment for each entry and a means to contact you if you win.
1. Check out
Crimson Clover
and pick out your favourite then come back
here and comment one it below.
2. Follow this blog
Newest JDRF Tank
Good Luck to all of you!
Giveaway closes July 31st, winner announced on August 1st!!!
Thank you to Tia over at
for this giveaway!!!!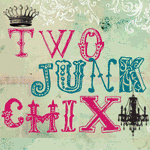 Two Junk Chix